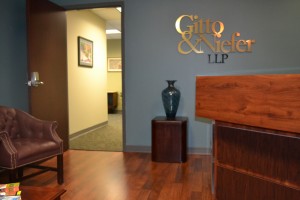 Gitto & Niefer, LLP provides expert legal services in the practice area of Workers' Compensation Law on behalf of businesses, insurance carriers, third party administrators and individual clients throughout the Southern Tier and statewide in New York and Northeast Pennsylvania.
Our attorneys personally attend hearings conducted before the Workers' Compensation Board in Binghamton, Elmira, Utica, Norwich, Syracuse, and, virtually at all locations statewide throughout New York.  We also handle hearings, mediations, appeals, and all other aspects of workers' compensation claims for our clients in Pennsylvania.
Our attorneys also represent clients in Social Security Disability matters and veterans before the Department of Veterans affairs (VA). Our practice also includes real estate closings.
Gitto & Niefer, LLP maintains the highest values of ethical practice, effective communication and timely case handling, at fees that are fair for our clients and our firm.
We use integrated practice management, billing and ebilling software.
For the description of client's rights in New York State: http://nycourts.gov/litigants/clientsrights.shtml
The information contained in this website is provided for informational purposes only, and should not be construed as legal advice on any matter.
Copyright 2008-2019. Gitto & Niefer. All rights reserved.